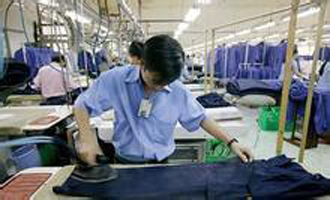 The basket of schemes announced in the Annual Supplement 2013-14 to the Foreign Tade Policy(2009-14) has been widely welcomed by the textile industry associations. These associations see the various measures as steps towards improving the domestic textile and clothing sector.
The extension of 2% interest subvention to readymade garments or inclusion of Norway under the Focus Market Scheme or Reduction in export obligation under the Export Promotion Capital Goods scheme, the announcements seems to have touched the right chord as far the textile industry is connerned.
The extension of Market Linked Focus Product Scheme for Exports to the US and the EU would help increase domestic industry's competitiveness and help sustain in these markets; extension of 2% interest subvention to readymade garments up to March 2014, will be a relief to the knitwear exporting community as bank rates have risen up to 11.5%-13.5%.
The predominantly cotton-based textile industry in the country faced a crisis during 2008-09 due to global recession; and in 2010-11, the industry went through difficult time owing to high volatility in cotton prices and certain external factors. The government stepped in during these periods by announcing debt restructuring packages to bailout the sector.
India could sustain positive growth particularly in cotton yarn, cotton fabric and cotton made-ups. It has made substantial progress with respect to cotton yarn exports during 2012-13, increasing the exports almost by 29% as compared to the previous year.
Referring to the inclusion of packing materials, embellishments, embroidery, sewing threads, poly/quilted bedding materials in the duty free import list up to a value of 1% of the FOB value for the made ups. This would improve its competitiveness and encourage value-addition and targeted selling to international brands, said Southern India Mills Association Chairman S. Dinakaran.
SUNTECH, is one of the leading designers & manufacturers on textile machines for weaving and finishing units, especially for Fabric Swatch Cutters.