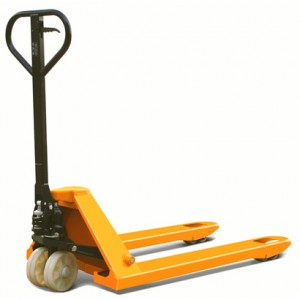 Detailed Product Description:
1.Hand Pallet Truck is small and light,can work in narrow lane and enter into elevator with full load.
2.Control part is installed at upper position of the handle, easy to be operated. Flexible control mechanism is reliable and safe.
3.Hand Pallet Truck provide with super-loaded automatic loading device and full-loaded device,so as to effective protect main parts such as vehicle frame and etc.
4.Adopting high strength polyurethane wheel with features such as stability flexibility, portability and on magnetic field and spark,etc.
5.The fork width and length can be selected so meet your any tray requirements.
This article comes from HOT Racking edit released