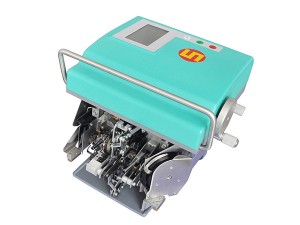 Possessing versatility and high performance, our warp tying machine can bring maximum production benefit to the weaving plant. The optimal warp tying quality, as well as the wide applications, can reduce the downtime to the minimum. As a necessary device for beam replacement, the weaving equipment from our company is well received by the customers due to the simple operation and the straightforward setup.
Advantages
1.The warp preparation can be conducted on the rack of the automatic warp tying machine rapidly and comfortably. Even with maximum speed, the warp tied is reliable for production.
2.Suitable for warp made of staple fibre and filament, this warp tying equipment is applicable for wide range of yarn count. Both single knot and double knots are available.
3.Our warp tying machine is offered with touch screen, which is convenient for you to visit the menu, set up or modify the programme. Moreover, the starting and stopping of the high speed warp tying machine can be controlled through the operation on the touch screen.
4.With advanced PLC, the electric control is more stable. Moreover, the USB interface is convenient for programme development and upgrade. The electrical accident diagnosis becomes easier, as well.
This article comes from elecjacquard edit released