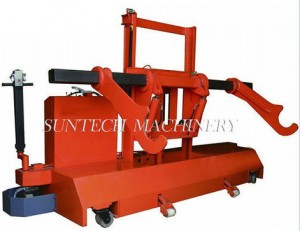 Description/ Specification of Electric Warp Beam High Lift Trolley for Upper Beams
We are engaged in exporting and supplying excellent quality Electric Warp Beam High Lift Trolley for Upper Beams to our valuable clients. ST-MBT-04 Electric Powered Beam Brolley is suitable for upper beam transporting, inserting in weaving machines. The removal of batches from the winder; The loading of warp beam storage racks and batch storage racks; The mounting of sectional beams in knitting machines as well as the handling of non-woven material rolls.
Polyurethane running wheels mounted one after the other in an oscillating manner lead to low ground contact pressure with high stability. Telescopic supporting rollers with safety control ensure a safe operation.
Technical Specifications:
Carrying Capacity : 1000-2000kg
Beam Flange Diameter : 800-1100mm
Beam Barrel Diameter : 100-400mm
Driven : Two AC motors
Excellent Features:
1)Regular drive with 2-AC drive motors.
2)Maintenance-free battery.
3)Electronic pulse steering for smooth starting and braking.
4)Automatically extending support rollers for transverse movement.
5)Lifting movement by motor-driven with automatic quick lift.