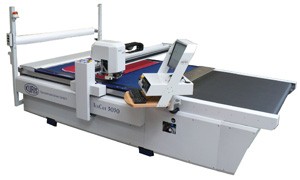 Successful crafting and fashion companies rely on well-made tools to help them create the best product imaginable. So, something like a fabric cutting machine should operate at maximum efficiency so that business owners don't even have to think about logistics. Instead, they put their mental efforts towards bettering their operation. Golden Cutting & Sewing Supplies has the selection of built-to-last fabric cutters that any sewing enthusiast can consider a smart investment.
Every fabric cutting machine at Golden Cutting & Sewing Supplies is built for ease of repeated use. These machines, part of Golden Cutting & Sewing Supplies' 300,000 product inventory, are durable and can even be customized with self-sharpening and maintenance details. Although for the worst case scenarios, each cloth cutting machine comes with a dependable warranty and is loaded with safety features. Plus, any repair needed within a year only costs the customer the price of the parts.
Everybody at Golden Cutting & Sewing Supplies knows the ins and outs of a fabric cutting machine. Machines come in different sizes, generally measured by the length of the blade, or attached to other parts, such as fabric cutter tables. This can get very overwhelming, especially if you're getting your first machine or if you were not happy with your previous one. Fortunately, Golden Cutting & Sewing Supplies can guide you to your perfect machine and also help you stock up on maintenance, cleaning, and other related accessories.
This article comes from GOLD STAR TOOL edit released