Suntech new product ST-WFIM-G Fabric Inspection Machine is used to handle a wide range of rolled fabrics, which is especially designed for garment factories. This machine can be used for fabric inspection, measuring, rolling and cross cutting purpose.
Ergonomically designed
Fast and Easily handled, requiring for one operator only
Improve fabric quality
Synchronize production process
Provide objective quality reporting
Reduce administration
Speed: 5-60m/min
Fabric Width: 1.8-4.0 meters
Standard Roll Diameter: 300mm
Electric Specs: 3 phase, 380V; 50HZ (can be adjusted to suit for different countries)
Remark: Variable working width is possible and can be tailor-made to your requirements of processing needs.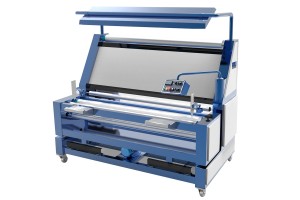 Features:
Accurate Length Counting(Y/M)-Counting error ≤1m/km.
Full Width Fabric Inspection- with 30 degree fixed angle inspection screen.
Sturdy Device for the coming fabric roll unwinding
Movable Wheels
Linear Fabric End Cutter- Optional