ST-AMB Automatic Meltblown Machine is used to manufacture non-woven fabrics from spunlaid Polypropylene. Polypropylene as the main raw material, color masterbatch and additive of color masterbatch, anti-oxidation, anti-pilling, flame retardant as the auxiliary material, to manufacture Polypropylene non-woven fabrics in different colors, different natures, and different applications.
The whole manufacturing process is automatic including material feeding, melt extrusion, filtering, counting, spinning, netting, static electret, rolling&slitting. This production line use single mode head technology, apply advanced air drafting technology and high speed netting technology, and is controlled by PLC system to make product have advantages of good uniformity, thin fineness, high strength in vertical and horizontal.
Standard Model: Producing Meltblown for 3Ply, N95, FFP2 Mask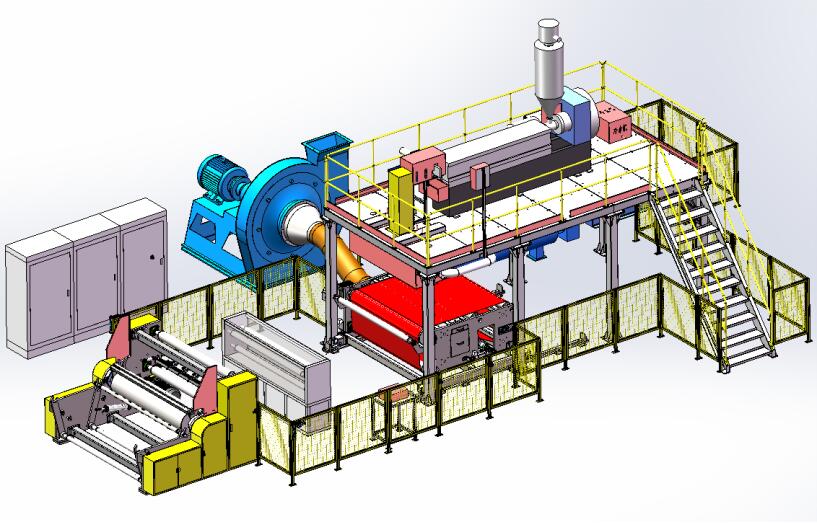 Extra Water Electret Treatment Device: Producing Meltblown for FFP2, FFP3
The production line includes electret liquid system ( Pure water manufacturing equipment), spunlace electret, drying and electric locking, slitting and rewinding and other technological processes. The prepared pure water is delivered to the fan-shaped nozzle through the high-pressure water pump, and the fan-shaped nozzle sprays the meltblown fabric with spunlace. The friction between the pure water and the meltblown fabric generates electric charges to complete the spunlace electrostatic electret; After the spunlace elextret, the meltblown fabric has better passability, stable electret, strong adsorption, low resistance, which achieve very good filtration efficiency, to meet the test conditions of FFP2/FFP3.