1. Under the circumstance of overall low industry profits, will you still choose high-priced machine?
2. In the context of high labor costs, are you still struggling to searching for labor resource?
3. In the increasingly competitive situation, are you still losing customers due to inferior quality?
4. In today's intelligent trend, are you still bearing old machines?
5. When others amortize costs through efficient production, is it worth further investing in low efficiency?
6.Is there a way for full realization of lean production, to create greater value for you in unit time or more cost-savings?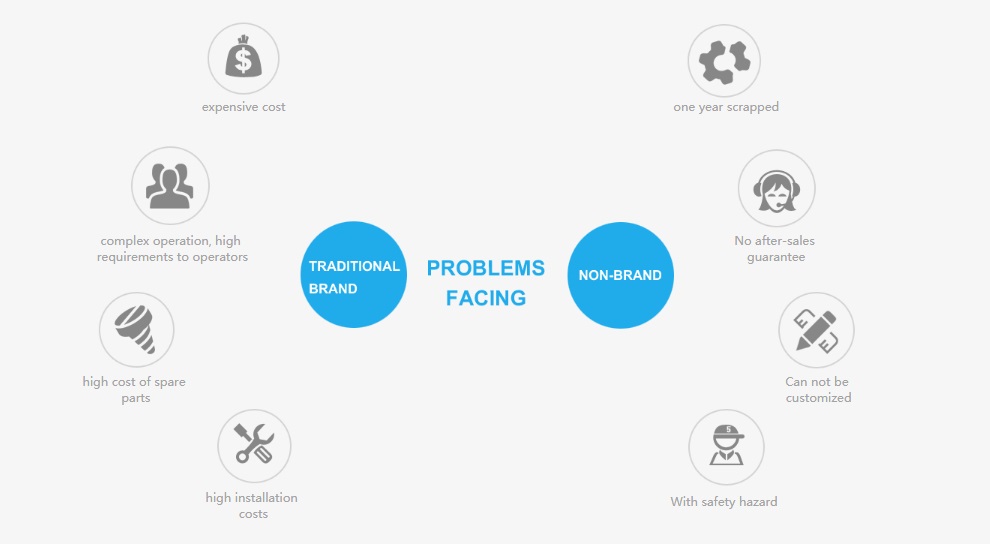 WHY CHOOSE US?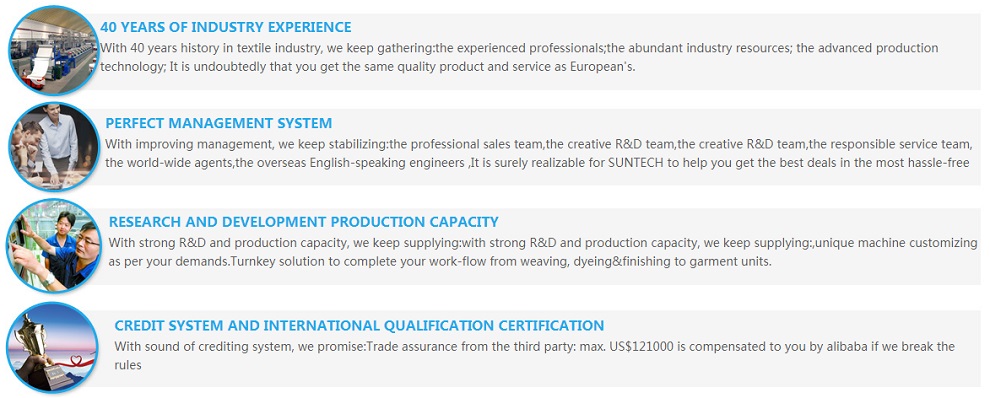 SUNTECH have two factories which covers an area of 11000 square meters. There are more than 120 workers,10 engineers with more than 10 years experience,20 marketing staff with more than 5 years experience ,10 engineers available to go overseas to provide after-sales service. Over 40 YEARS experience, SUNTECH now has its brand office in Hong Kong and International sales office in Hangzhou (Hangzhou Strength Machinery Co.,Ltd.). In addition, its factory is located in Ningbo city, Zhejiang, mainland.
SUNTECH is one of the leading designers manufacturers on textile machines for weaving&finishing units, especially for Fabric Make-up Machines and Material Storage ,Handling Equipments.More than 50 products can be provided and it is customized by your request.Furthermore,From weaving factory,Finishing and dying factory to garment factory,we can provide one-stop service for you.Up to now,we already have 2500 global customers,and 6000 sets machine have been sold to the oversea market.Within sales turnover,Asia takes up 48%,Europe 16%,North America 9%,South America 14%,Africa 8%,other countries 5%.
In the future,SUNTECH will spare no efforts in researching and developing,targeting to achieve a further breakthrough in energy conservation and environmental protection,and leading textile industry from the past labor-intensive industries to technology intensive industry. Meanwhile,it's our endless pursuit to maximize liberate the labor force, improve production efficiency, reduce the comprehensive cost, and create the largest profit for customers to achieve win-win.
As SUNTECH has become a significant name in textile machinery's field due to its diverse product range that serves to the demands of the textile industry worldwide. Its scope of products includes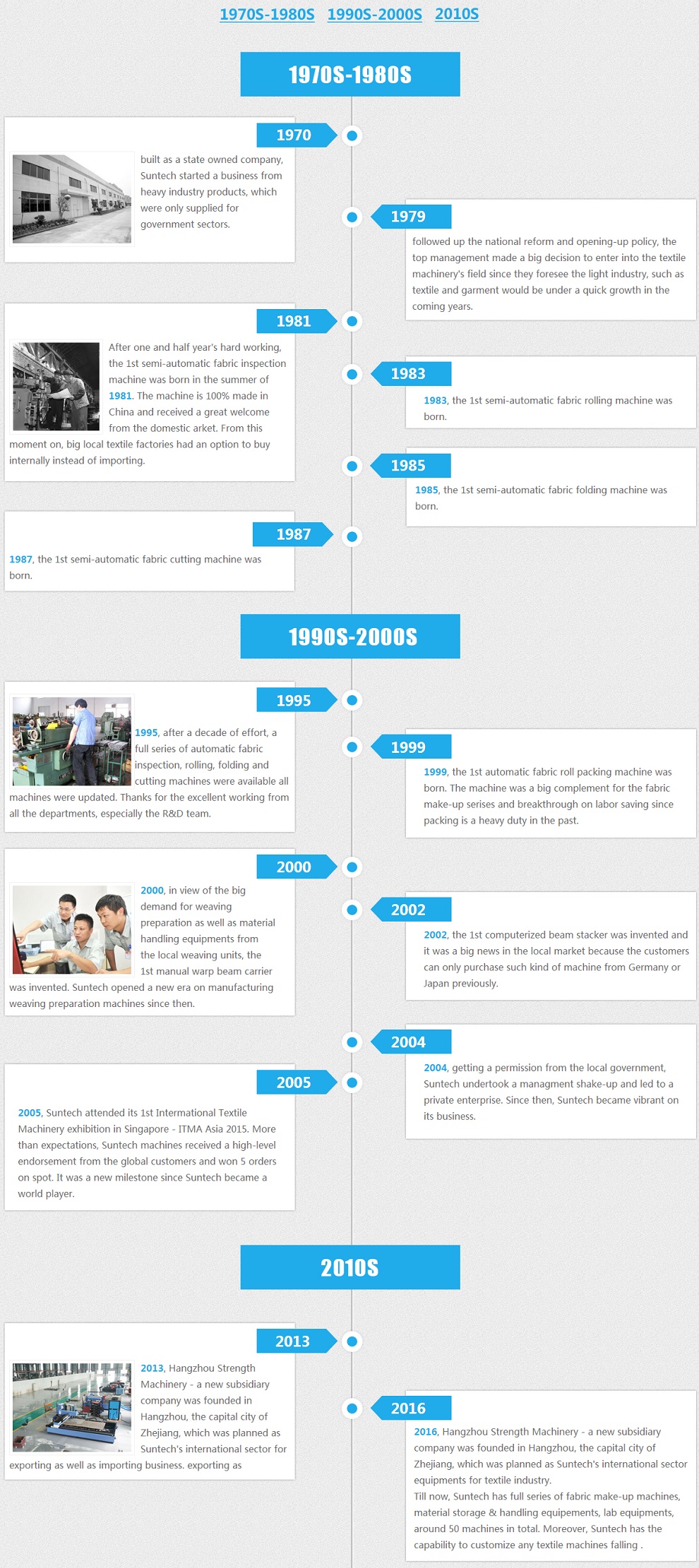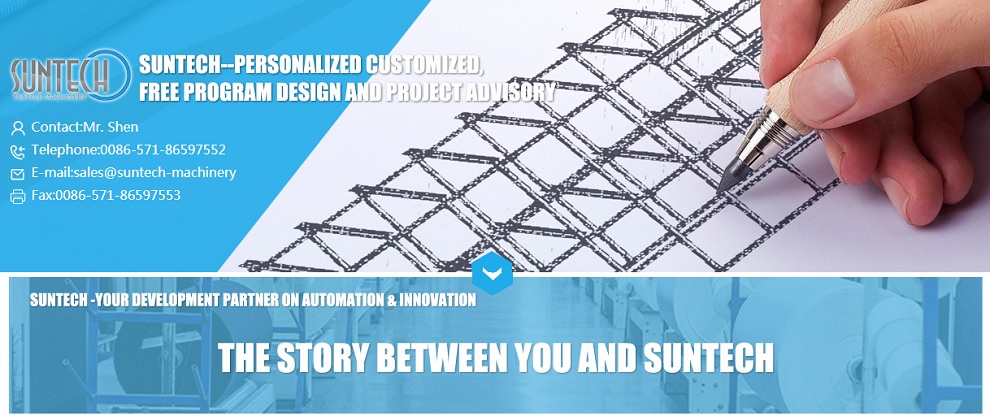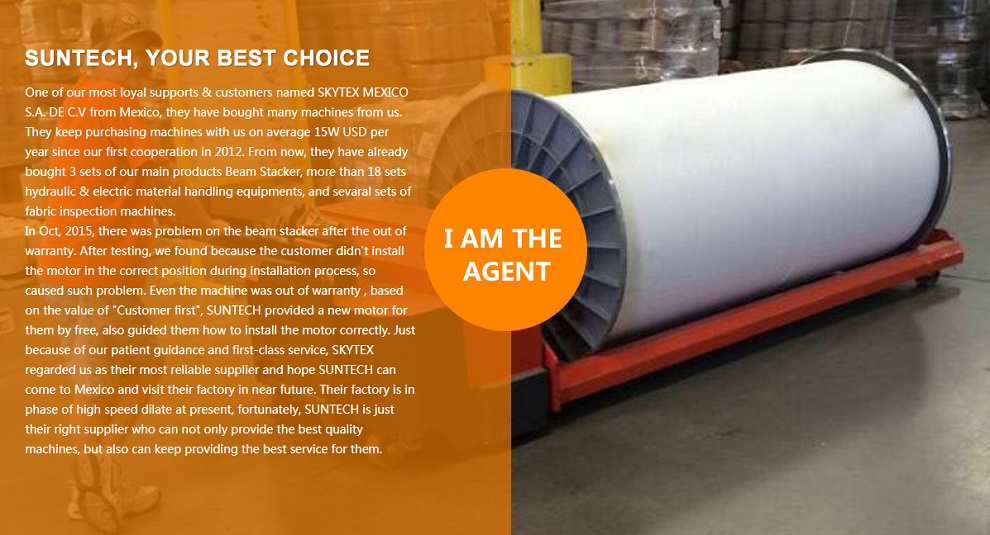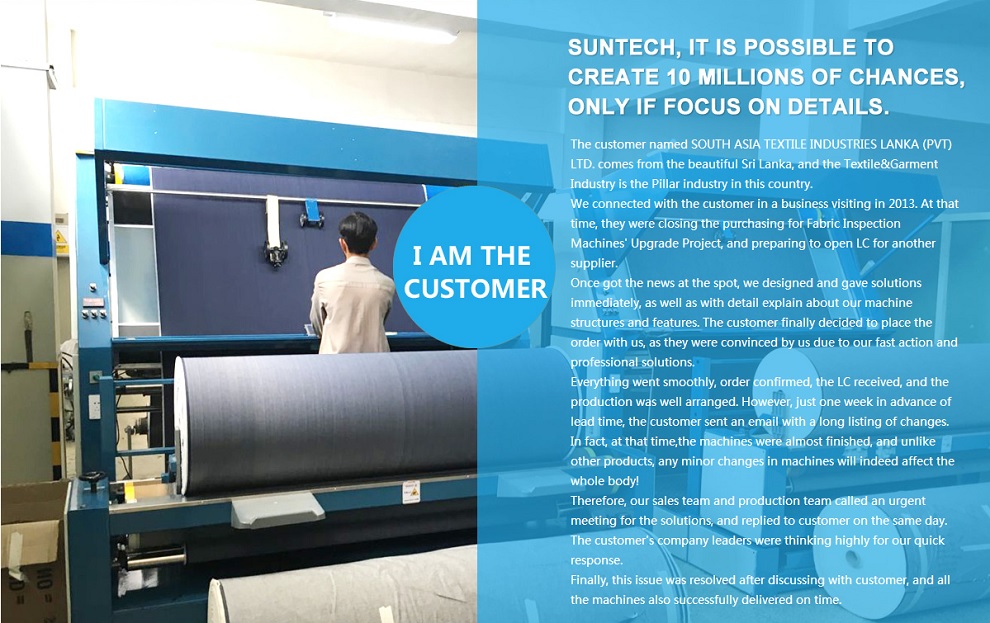 I'm the R&D director of Suntech Mr. Huang and have 5 years' working experience at Toyota. Until now, I have been working at Suntech for 6 years. Our company gives us a very good development environment and platform. We have set up a strong R & D team, which follows the "customer first" principle, insight into industry trends, providing customized solution by continuous technological innovation. To meet customer's automatic fabric roll stacking requirements, we add automatic lifter to current packing machine and they matched perfectly. To meet customer's automatic area choosing requirement for Inspection and Packing line, which means fabric roll from A inspection machine can be transported to A area after packing intelligently, we update current packing machine to be fully automatic. To meet customer's customized requirements on Fault Recording System which is used on Inspection machine, we redesign the software and got 100% positive feedback. To meet customer's higher requirements on edge alignment, we improve the accuracy of photo sensor etc.
We understand that details matter when purchasing a machine from overseas supplier. Every product upgrades is following the "customer first" principle, every technological innovation is in line with customer service attitude, at present, we are already the No.1 in domestic market, but our goal is to be the leader in machinery industry all around the world. Suntech, always keep moving.......


I'm the production director of SUNTECH Mr. Li Jianbo. From the very beginning to now,I have been working for this company for 15 years and witnessed growing pain and every turning point the company.I can tell you every process of production line and every detail of the machine.Here is the growing path of SUCHTECH. When the enterprise started,most works were done manually.Then we use domestic machine to promote the production.Now,we made a big Change! SUNTECH introduced first-class device including TRUMPF brand laser cutting machine from Germany, NSSHNBO brand Numerical Control Turret Punch Press from Japan, bending machine from Italy.Yes,just like a toddler become a mature and decent man. Besides ,SUNTECH have well-disciplined manner.We apply "6S "management system and ISO9001:2008 quality certification system.Meanwhile,our worker have carpenter spirit and always put quality in their priority,and 100% products is delivered in time and 99% is up to standard. We have our own factory ,which is our firm backup,so your inspection for factory or machine will be warmly welcomed. Many clients have visit our factory ,they come from different countries like India,British,New Zealand,Pakistan, Sri Lanka ect.Our clients give high marks to our production efficiency and attitude of our workers,which greatly inspired us and we will keep and do better in the future. "working hard,being realistic,focusing on detail"is our policy.Our aim is let the quality speak for SUNTECH and let SUNTECH be a brand known for "create in China"instead of "made in China".SUNTECH, always keep leaping.


I am Betty Hao. As in the sales team of Suntech, we are in the first place to explore and satisfy customers' requirements. We are devoting to be the most faithful friends as well as the best listeners to our customers. We believe that we are not only the sales, but also the communicator and the solution provider. We focus on providing best customer experience with our professional skill and warm-hearted service. Such as our New Zealand customer Dunlop Flooring Limited, which we didn't meet just in coincident: Ball & Young(UK) is our old friend that we worked together since 2012, they used to buy automatic fabric roll packing machine from us. Dunlop and Ball & Young are both the manufacturer of carpets, and in 2015 when Dunlop visited Ball & Young's factory to discuss the carpet fabrics technic, Ball & Young recommended our packing machine to them. At that time, Dunlop was actually ready to choose an Italian supplier, but after they seeing our machine's working condition and under the highly recommendation of Ball & Young, finally Dunlop contacted us. It is my honer to say Dunlop was very satisfy with our quick respond, suitable design, and professional innovation. Start from this, Suntech becomes the only Chinese supplier of them. We think that sales is interesting because of the trust and support given by our customers. We want to be friends with our customers, to think in their position, to offer on their needs, and finally give them 5-star customer experience. Suntech, always on the way for customer and never stop.


I am the after-sale service executive Ben Liu in Suntech, we have more than ten after-sell service executives from different countries. Our after-sell service principle is to solve any machine quality problem no matter how much it would cost us as long as the machine is within warranty, and to provide lifetime service to make customer feel absolutely guaranteed! In my past 3 years working in Suntech, we not only have been solving quality problem for customer, but also have been providing machine training for operation&maintenance. For example, our South Africa customer "MACBEAM BEIER PLASTICS" purchased the "FABRIC ROLL SLITTING MACHINE" from us in 2016, but customer faced the installation issue when they received the machine. In order to make sure the machine can be installed and run successfully in customer's factory at earliest, we firstly guided and instructed the installation by online video, and then we sent out the engineer to South Africa immediately. Our engineer not only installed the machine perfectly, but also made detailed training for operator. Thus customer gave us a very high comment in this after-sale service! Customer's satisfaction is always the key goal for us. We keep improving and building customer visiting schedule, and the most concerned point is customer's physical experience in Suntech machine! For example, our Argentina customer "CLADD GROUP" has been purchasing machines from us in past 10 years. CLADD is very impressed by Suntech service, we are proud that all the inspection machine and packing machines in CLADD are all Suntech brand! Now CLADD is a very good friend of us, CLADD has introduced Suntech machines to many industry factories and highly welcome other customers to visit running machine in their factory. This case makes us understand that after-sale service is so much important for Suntech! Customer's satisfaction is Suntech's basement of continous developing, we are always getting better!